Hardly any other metropolis in Europe is as easy to reach by train as Paris. There are numerous options from Germany. From Cologne alone, there are more than 10 connections a day on a regular working day in September 2022. The fastest takes just 3 hours and 21 minutes. Without changing trains. But the tourist city with the highest number of annual visitors can also be reached excellently from metropolises in Europe. From London to Paris, the journey by train takes just 2 hours and 20 minutes.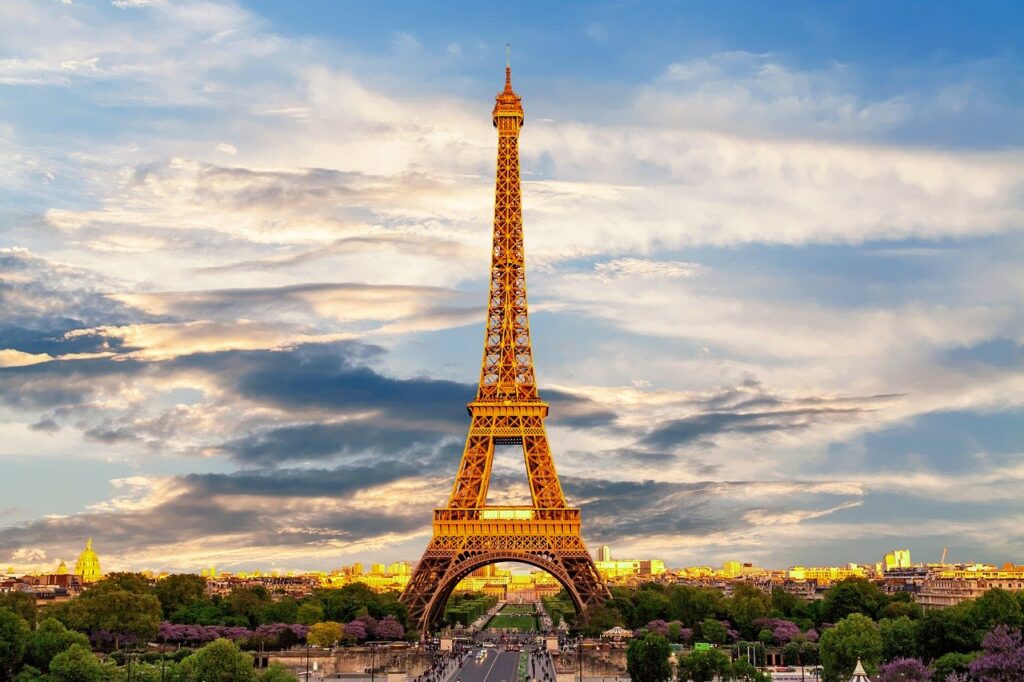 ---
---
---
From Cologne to Paris by train: it pays to get up early
The fastest connection from the Rhine metropolis to Paris is possible with the French express train Thalys. The first train departs on weekdays as early as 04:21 in the morning. Travel time: 3 hours and 21 minutes. Without BahnCard, vouchers and discount early bookers, a ticket costs about 125€ for spontaneous travel. But be careful: the route is highly frequented. Spontaneous bookers often have to deal with fully booked trains. During the Corona pandemic, reserving a seat was mandatory. But even at times without pandemic restrictions, transportation cannot always be guaranteed. If the train is overcrowded, either tickets are not available at the time of booking or access is denied at the track.
Those who want to travel spontaneously should choose a train before 8:30 am. The earlier, the emptier. Spar fares booked in advance are also significantly cheaper at these times. Coffee is available in the on-board café. However, the selection is not as attractive compared to the ICE. On the other hand, the journey time is shorter.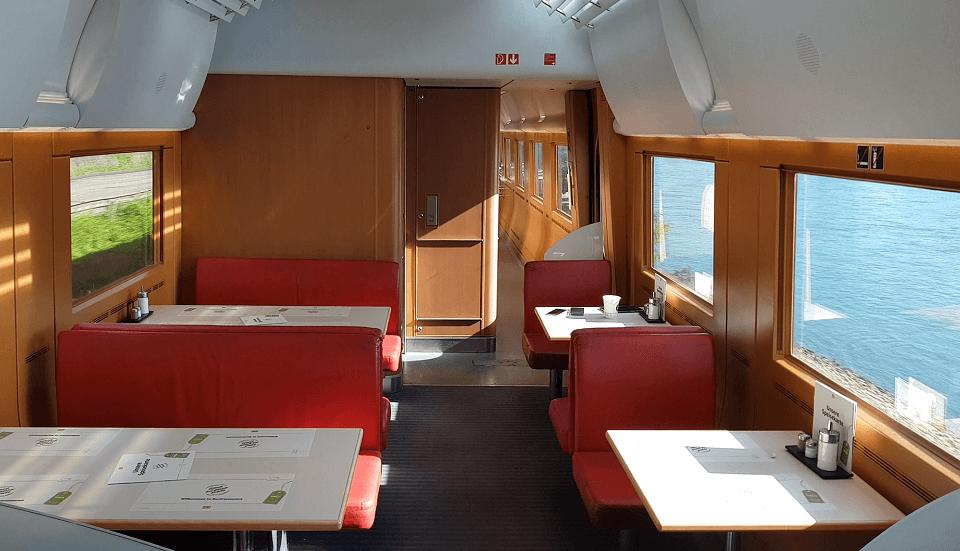 Onboard restaurant in the ICE: Relaxed seating and extensive selection of dishes.
Train from Stuttgart to Paris via Karlsruhe
A train ride from Stuttgart to Paris is a pleasant and comfortable way to travel between these two cities. The route is about 500 kilometers long in total and passes through picturesque landscapes and historic cities.
Train connections between Stuttgart and Paris are very busy and there are several connections every day. The journey usually takes between 3 and 4.5 hours, depending on which train is chosen. Among the fastest connections are the direct connections with a travel time of 3 hours and 15 minutes. TGV and ICE trains run directly between the Swabian metropolis and the French capital several times a day.
Prices for a train ride from Stuttgart to Paris vary depending on when you book and which train you choose. As a rule, you should expect prices starting at 39 euros for a one-way trip, although prices for first classes are significantly higher. However, it is worth booking early to take advantage of the best prices.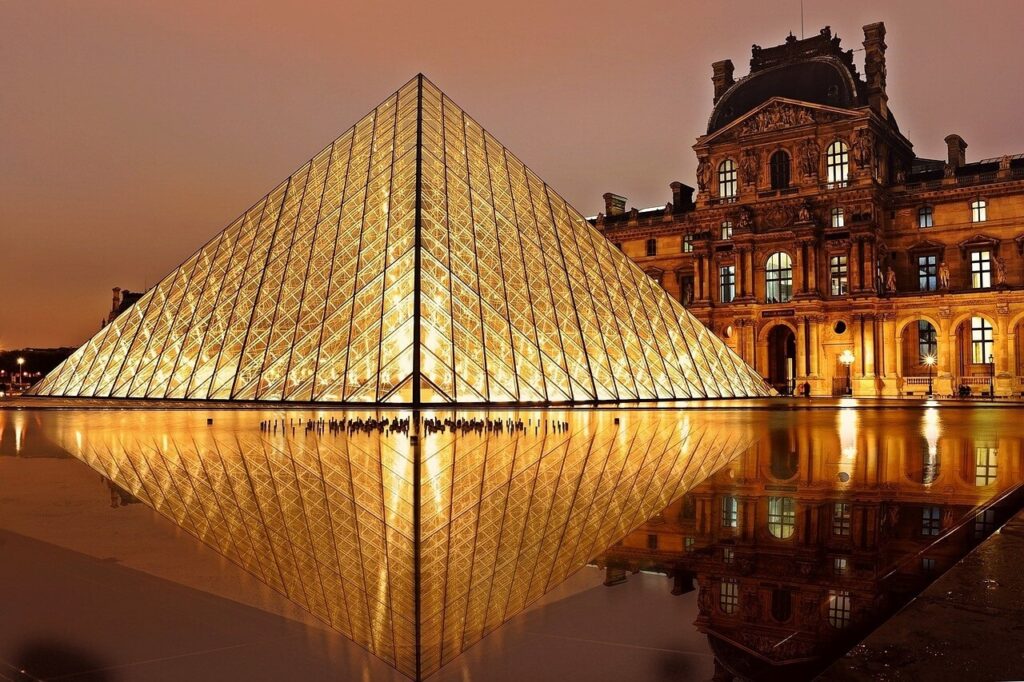 Louvre Museum forecourt in the 1st arrondissement of Paris
There are several providers that offer train connections from Stuttgart to Paris. These include Deutsche Bahn, TGV and Eurostar. Deutsche Bahn offers connections with ICE and TGV trains, while TGV and Eurostar use high-speed trains on the route.
Deutsche Bahn offers a wide range of connections between Stuttgart and Paris, made possible by cooperation with the French SNCF. The trains are usually very modern and comfortable and offer many amenities such as WLAN and power sockets at the seats.
The TGV and Eurostar are high-speed trains that are used on the route between Stuttgart and Paris. These trains reach speeds of up to 320 km/h and offer a very fast and comfortable journey. TGV is a French high-speed train, while Eurostar is a British train that serves the route between London and Paris.
Overall, a train ride from Stuttgart to Paris is a pleasant and comfortable way to travel between these two cities. There are many connections that offer a wide range of departure times and prices. The route is very scenic and offers the opportunity to visit historic cities such as Karlsruhe or Strasbourg. With modern and comfortable trains and many amenities, a train ride from Stuttgart to Paris is one of the best ways to travel this route.
Arrival at Paris Est train station
Paris Est station is one of the six major train stations in Paris and one of the most important transport hubs in Europe. The station was opened in 1849 and is located in the 10th arrondissement, in the east of Paris. With its impressive architecture and history, the station attracts millions of travelers from all over the world every year.
The arrival of a train passenger at Paris Est station is an unforgettable experience. The first impression that presents itself is the impressive facade of the station with its towers and the large clock tower. The arrivals hall is very spacious and offers numerous opportunities for travelers to plan their onward journey.
The first thing an arriving train traveler should do is check out the station's information booths to learn about the various options for their onward journey. There are numerous options to reach other cities and towns in France and Europe from the Paris Est station. One option would be to use the Metro network, which is directly connected to the station and transports travelers quickly and easily throughout Paris.
Another option is to use cabs or ridesharing apps to get to the desired destination quickly and easily. For travelers who want to cover a longer distance, there are numerous bus and train services that depart from the Paris Est train station. Most trains depart from here to the north and east of France, Germany and other European countries.
For travelers who want to take a short break, there are plenty of places to relax and grab a bite to eat at Paris Est Station. There are a variety of restaurants, cafes and stores that offer a wide selection of food and drinks.
In addition, there are numerous hotels and accommodations at Paris Est Station to help travelers enjoy a comfortable stay in Paris. Many of the hotels are located near the station and offer quick access to public transportation.
---
---
---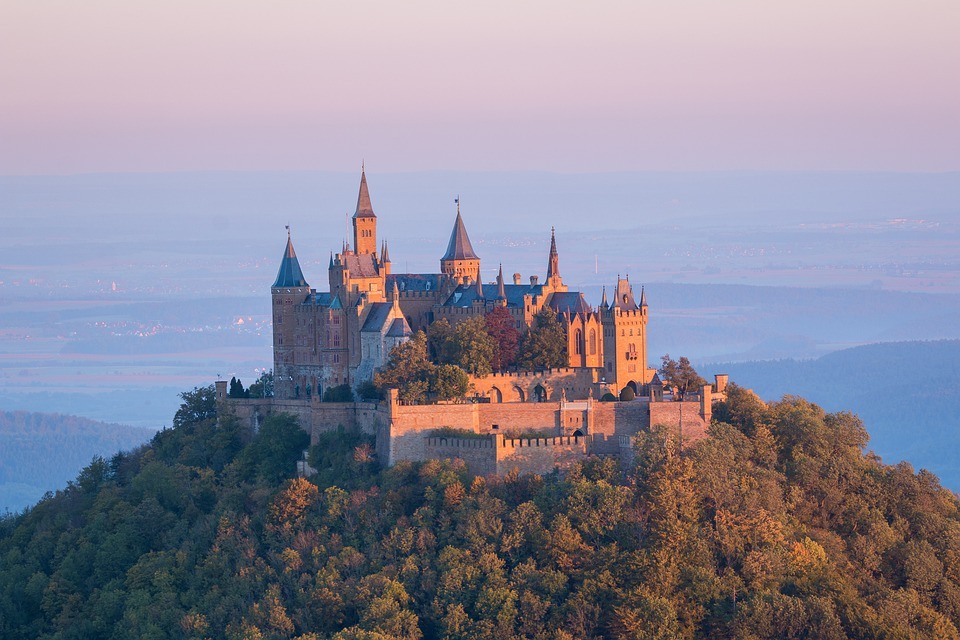 Baden-Württemberg has a well-developed regional rail network, which allows travelers to travel comfortably and easily…